Established in 2023, Forests for People is a sister project to The Orangutan Project, International Elephant Project and International Tiger Project, which sit under the umbrella of Wildlife Conservation International, a multinational non-profit organisation that has contributed over AUD$31 million to conservation projects across Indonesia and South-East Asia.
This incredible achievement would not be possible without the support and generosity of the many thousands of supporters around the world who have shared in our vision that orangutans, elephants and tigers will live in their natural habitat in secure and viable populations, alongside prosperous and empowered indigenous communities.
Our annual Impact Report celebrates these achievements and highlights the progress we are making.
Our Impact in 2022-23
Over the past year, Forests for People has worked to support and enhance the welfare of indigenous communities through community engagement and education programs. Together with its sister projects a further AUD$5 million has been contributed to conservation projects across Borneo, Sumatra and Laos.
This funding has:
provided support for over

25 community development projects

to improve living conditions and enhance food security through supporting the transition to and implementation of economically sustainable agricultural practices such as agroforestry and permaculture;

supported

100 schools and communities

through education and training workshops in conservation and sustainable agriculture as well as incentivising education for school children by providing daily nutritious meals; and

supported a further

16 Orangutan Caring Scholarships

for Indonesian tertiary students undertaking studies in biology, veterinary science and forest conservation, bringing the total number of scholarships supported since 2006 to 127.

We are proud to share our key outcomes over the past 12 months as we continuously strive to secure a sustainable future for Critically Endangered orangutans, elephants and tigers and indigenous rainforest communities.
Thank you to all of our donors who have supported us this year. Your kindness and generosity helps us to continue our vital conservation work. Only by working together can we achieve meaningful change.
Read Our 2022-23 Impact Report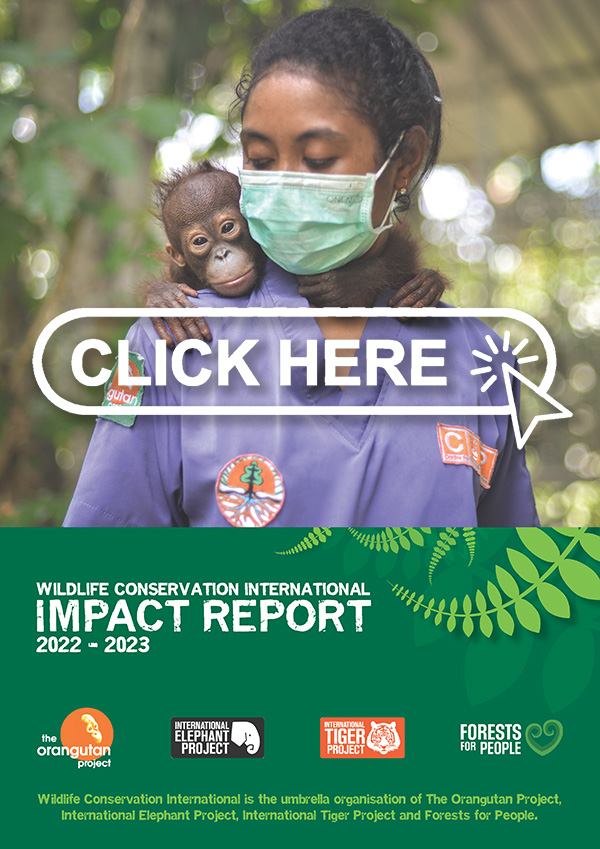 Download a PDF copy of our 2022-23 Impact Report, including a summary of our financial statements
Our full 2023-24 financial report is also available, along with archived copies of previous Impact Reports and Financial Statements.
Financial Results
In 2022-23, our supporters' generous contributions delivered a further AUD$5 million to our conservation projects, bringing the total contribution since 1998 to AUD$31,400,000.